200 members already!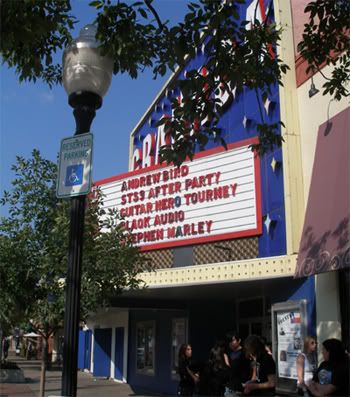 The Granada
1020 Massachusetts St, Lawrence, KS 66044
Capacity: 1,700
Originally built as a vaudeville theatre in 1928, turned into a concert venue in 1993. The Granada is located in the very cozy college town (KU) of Lawrence Kansas, only about an hour or so outside of Kansas City. It's easy to get to from the main city, 435W to 10W, turn right on Massachesetts and you can't miss it on your right.
Ticketing.
Will-call and printed tickets are both good. The box office opens about two hours before the show, if not earlier. The box office is located inside a small door to the left of the venue and up the stairs.
Parking.
It's almost impossible to get away from meters in this damn town. If you search around for long enough you can find streets to park on that have no meters, but they're a ways from the actual venue. The meters aren't too bad, but get annoying if you're spending the whole day there. You don't have to pay on them after 6pm.
Food.
The Granada is in the middle of Lawrence, so naturally there is places to eat in pretty much every direction you look. There's a bagel places attached to the venue and a Pita Pit right across the street. If you walk further down the street there's a ramshack of other places to eat and even shop. Like I said, Lawrence is a college town, and has no lack of places to eat and shop.
Lining up.
Noone will bother you if you want to line up early. The line has to go South though, or down towards the bagel shoppe. They'll eventually make you move if you line up to the North side of the building. Lawrence is probably one of the most amusing places to be stuck in line at for several hours, there's all sorts of things and people to see in this city. There's definitely no lack of amusement and the town is very safe.
What to bring?
Camera polocies are on the ticket or listed on the site. They don't really do much of a pat down at all so you could probably sneak in cameras, and there's not much security around either (there's usually not a barrier). Otherwise, bags are okay and may be subject to search depending on the polocies of the band.
Inside!
The Granada is very... cozy. I'm not sure where they put all the 1,700 people they cram into this place. Once inside, you hurry down a ramp to get to the pit, which is moderately sized. Like I said, there's usually not a barrier so you're pretty much on the stage, which is very low. Behind the pit is a raised platform people can stand on, there's also tables to sit at. At the very back in the right corner is where merch is sold.
There is little security during the concert and for some reason this place tends to have issues turning on the AC in the summer, it gets very hot in there very quickly, especially when people are all mashed together down in the pit trying to get closer to the stage. The sound and lights are very good (on non-concert nights, The Granada is a techno dance/rave/bar), however. Totally worth going to see a show at this place, and tickets are usually very decently priced.
After show.
It's surprisingly not that difficult to get off the main street after the concert. I've not bothered trying to meet bands at this venue, their tour buses pull up to the and inside the garage over by the bagel shoppe.